I was pacing the house last night suffering from chocolate withdrawal symptoms (I had forgotten to buy any on my last shopping trip). While I was standing at the window dreaming of Cadbury's Dairy

Milk Chocolate

I was treated to a

stunning

owl flying display.

Barney Owl suddenly swooped down from the tower and glided across the courtyard before settling into the open window of the barn.

He perched on the sill and looked around for a few minutes before disappearing into the barn.

A few minutes later another owl swooped down, presumably Mrs Barney Owl.

She flew into the open grange and

perched

on a large beam.

She didn't stay there long, flying out and back into the tower with a mouse between her claws, no doubt dinner for their young.

So much owl activity in one evening.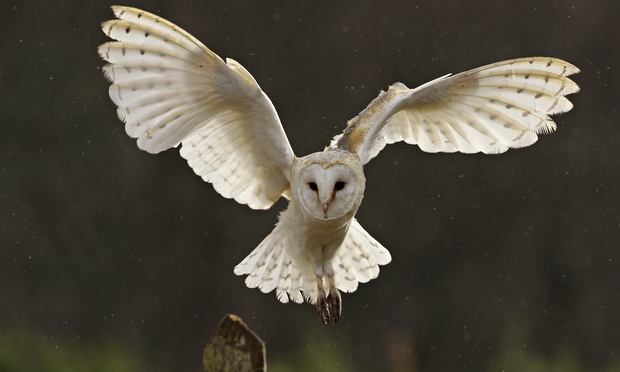 Our barn owls have been in residence in the roof of our pigeonnier ever since we moved here.

The top windows of the tower are completely open to allow them free entry and exit.

We didn't have the heart to evict them and shutter the windows.

Paul once climbed through the bathroom ceiling to explore the top room of the tower.

(

I had visions of it being my very own studio or hideaway.

I could pretend to be Rapunzel and grow my hair long.)
However, he discovered that there wasn't enough headroom for it to be a viable

living space

.

He took some photographs and it seems that the owls actually live in the very top part of the tower.
Barn Owls Roost in the Tower
If you look very closely you can see the white underside of the owl roosting on the top of the beam to the right of the centre

point.
It

will not

be long before the young ones fledge and I shall be able to enjoy their

unwieldly

attempts at learning to fly.